Primary 2
A warm welcome to Primary 2!
This year our teacher is Miss Shiels and our assistants are Mrs King and Miss McCrea.
We have worked extremely hard during our first half term - keep reading to see what we have been learning!
Literacy:
In Literacy this term, we have been looking at instructional writing. We planned, sequenced and wrote instructions for making a jam sandwhich. We then followed our instructions to make our own jam sandwhiches for snack and they were yummy! We also completed the skittles experiment and after we were able to write instructions for others that would like to try the experiment - it was so much fun!
Numeracy:
In Numeracy this term, we have been working hard on our numbers from 1 - 20. We have been exploring 2d shapes and their properties and also creating a range of patterns using shapes and colours. We have been working hard on our Days of the Week and Months of the Year, too.
WAU:
Our topic this term was 'The Five Senses'. Through play we explored each of the five senses. We really enjoyed playing in 'The Opticians' area during role play. At 'The Opticians' we tested our friends and teachers' eyes to see if they need glasses. We also worked hard in the ice-cream parlour describing all the delicious flavours we had in store and selling them to our valued customers. At the end of our senses topic we made our own ice-cream cones as a treat and we used all five of our senses!! We looked at our ice-cream, smelt it, touched it, listened as we scooped the ice cream and put on the sprinkles but most importantly, we tasted it!!
Check out our school Facebook page for weekly updates!
Latest Photographs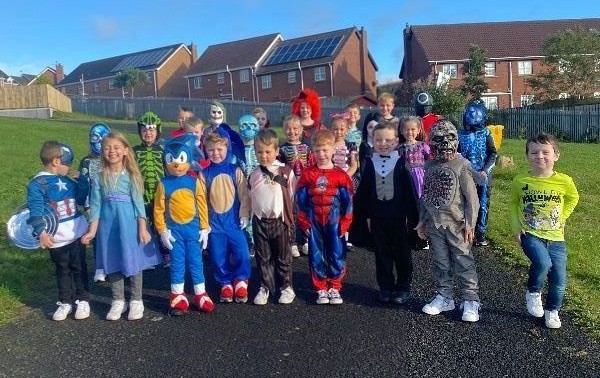 Ballysillan Primary School Ballysillan Park, Belfast BT14 8LT | Phone: 028 9039 1668